The Perfect Pairing
Our Wine Selection
Our wine is the only thing we don't make from scratch.
But while we don't make it, we take it seriously. So…for ten years straight Joia Ristorante has won the Wine Spectator Award of Excellence.
Marco and Eugenio invite you to visit Joia on Main to enjoy the perfect pairing of delectable cuisine and fine wine.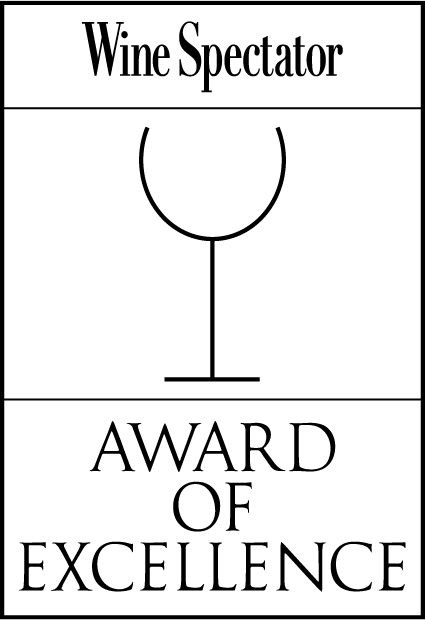 NAME
TYPE
REGION
CITY/COUNTRY
CATEGORY
Castello di Gabbiano, Riserva 14 Gls, 42 1/2 litre, 65 Bottle
Chianti
Tuscany
Italy
Vino Rosso
When we Dance 65
Chianti
Tuscany
Italy
Vino Rosso
Croce, Riserva 85
Chianti
Tuscany
Italy
Vino Rosso
Rufina 65
Chianti
Tuscany
Italy
Vino Rosso
Querceto 10 Gls, 30 1/2 Litre, 42 Bottle
Chianti
Tuscany
Italy
Vino Rosso
Frameworks 120
Cabernet Sauvignon
Napa Valley
California
Vino Rosso
Caymus Vineyards 220
Cabernet Sauvignon
Napa Valley
California
Vino Rosso
Coturo 150
Cabernet Sauvignon
Napa Valley
California
Vino Rosso
Peter Franus 220
Cabernet Sauvignon
Napa Valley
California
Vino Rosso
Decoy 85
Cabernet Sauvignon
Sonoma County
California
Vino Rosso
Faust 130
Cabernet Sauvignon
Napa Valley
California
Vino Rosso
Stags Leap170
Cabernet Sauvignon
Napa Valley
California
Vino Rosso
Shafer 270
Cabernet Sauvignon
Napa Valley
California
Vino Rosso
Optima 130
Cabernet Sauvignon
Alexander Valley
California
Vino Rosso
Headwinds 12 Gls 361/2 litre, 55 Bottle
Cabernet Sauvignon
Napa Valley
California
Vino Rosso
Frogs Leap 170
Cabernet Sauvignon
Napa Valley
California
Vino Rosso
Caymus Special Select 400
Cabernet Sauvignon
Napa Valley
California
Vino Rosso
SBRAGIA Andolsen 125
Cabernet Sauvignon
Napa Valley
California
Vino Rosso
Red Schooner (Caymus) 160
Cabernet Sauvignon
Napa Valley
California
Vino Rosso
Bonanza 75
Cabernet Sauvignon
Napa Valley
California
Vino Rosso
Textbook 95
Cabernet Sauvignon
Napa Valley
California
Vino Rosso
Volunteer 150
Cabernet Sauvignon
Napa Valley
California
Vino Rosso
SBRAGIA 175
Cabernet Sauvignon
Sonoma County
California
Vino Rosso
Collematoni 150
Brunello
Tuscany
Italy
Vino Rosso
Valdicava 330
Brunello
Tuscany
Italy
Vino Rosso
Siro Pacenti 280
Brunello
Tuscany
Italy
Vino Rosso
Ca' del Baio, Vallegrande 99
Babaresco
Piedmont
Italy
Vino Rosso
Tenuta Rocco 105
Barolo
Piedmont
Italy
Vino Rosso
Serradenari, Giulia Negri 145
Barolo
Piedmont
Italy
Vino Rosso
Pie Cesare 170
Barolo
Piedmont
Italy
Vino Rosso
Deltetto 145
Barolo
Parassi
Italy
Vino Rosso
Luigi Righetti 85
Amarone
Veneto
Italy
Vino Rosso
Masciarelli 14 Gls, 41 1/2 Litre, 65 bottle
Monepulciano
Abruzzi
Italy
Vino Rosso
Pipoli Agliancio del Vulture 50
Agliancio
Italy
Vino Rosso
Tiganello 280
Tuscany
Italy
Vino Rosso
Masciarelli Marina Cvetic 89
Montepulciano
Abruzzi
Italy
Vino Rosso
Caburnio 75
Super Tuscan
Tuscany
Italy
Vino Rosso
Philip Marchesi Mazzel 140
Tuscany
Italy
Vino Rosso
Collematoni Rosso 79
Montalcino
Italy
Vino Rosso
Fattoria di Magliano, Heba 75
Tuscany
Italy
Vino Rosso
Fattoria di Magliano, Poggio Bestiale 120
Tuscany
Italy
Vino Rosso
Lidi 9 Gls, 27 1/2 Litre, 39 Bottle
Merlot
Tuscany
Italy
Vino Rosso
Roncaiolo, Appassite 79
Veneto
Italy
Vino Rosso
Villa Donoratico 130
Bolgheri
Italy
Vino Rosso
Refosco La Viarte 120
Friuli
Italy
Vino Rosso
La Rinzacco, Castel Del Monte 70
Troia
Italy
Vino Rosso
Tenuta, Monteti 140
Tuscany
Italy
Vino Rosso
Primativo, La Creta 55
Italy
Vino Rosso
Calburnio 1.5 litre 150
Super Tuscan
Tuscany
Italy
Vino Rosso
Zyme 110
Valpolicella
Vento
Italy
Vino Rosso
Quintarelli 240
Valpolicella
Veneto
Italy
Vino Rosso
Zardini Ripasso Superiore 12 Gls
Valpolicella
Cavaion Veronese
Italy
Vino Rosso
Zenato 69
Valpolicella Ripasso
Italy
Vino Rosso
Caymus Vineyards 130
Zinfandel
Napa Valley
California
Vino Rosso
Caymus, Emmolo 160
Merlot
Napa Valley
California
Vino Rosso
Peter Franus 145
Merlot
Napa Valley
California
Vino Rosso
Markham 90
Merlot
Napa Valley
California
Vino Rosso
La Crema 79
Pinot Noir
Sonoma Coast
California
Vino Rosso
Caymus-Suinun 160
Suisun Valley
California
Valley Rosso
Zyme
Cabernet Veneto
Veneto
Italy
Vino Rosso
Andeluna 55
Malbec
Mendoza
Argentina
Vino Rosso
Andeluna Altitud 69
Malbec
Mendoza
Argentina
Vino Rosso
Montes Purple Angel 160
Colchagua
Chile
Vino Rosso
Cheateau Le Puy 120
Saint Emilion
France
Vino Rosso

Chateau Clarke 140
Bordeaux
France
Vino Rosso
Cote De Nuits Villages 120
Burgundy
France
Vino Rosso
Jacques Boyd 85
Margaux
France
Vino Rosso
Vieilles Vignes, Vonlay 160
Bourgogne
France
Vino Rosso
Segla Du Chateau Rauzen Segla 250
Margaux
France
Vino Rosso
Chateau La Garde 150
France
Vino Rosso
Woolshed 55
Shiraz
Australia
Vino Rosso
Burrowing Owl
80
Merlot
Okanagan Valley B.C
Canada
Vino Rosso
Burrowing Owl 95
Cabernet Sauvignon
OKanagan Valley B.C
Canada
Vino Rosso

2016 Caymas 3000 mls 900
Cabernet Sauvignon
Napa Vally
California
Vino Rosso
2015 Luigi Reghetti
5000 mls 600
Amerone
Veneto
Italy
Vino Rosso
2015 Zyme 60/2020
910
Veneto
Italy
Vino Rosso
Heba 3000 mls 280
Super Tuscan
Tuscany
Italy
Vino Rosso
2006 Val Di Cava 1.5 litre
Brunello
Italy
Vino Rosso
Villa Sandi 9 Gls, 27 1/2 litre 39 Bottle
Pinot Grigio
Trentino
Italy
Vino Bianco
Solid Ground 12 Gls, 41 1/2 Litre 55 Bottle
Chardonnay
Napa Valley
California
Vino Bianco
Venica Jesera 85
Pinot Grigio
Dolegna D.Collio
Italy
Vino Bianco
Textbook 79
Chardonnay
Napa Valley
California
Vino Blanco
Markham 70
Chardonnay
Napa Valley
California
Vino Blanco
Burrowing Owl 70
Chardonnay
Okanagan Valley B.C
Canada
Vino Blanco
Burrowing Owl 70
Pinot Gris
Okanagan Valley B.C
Canada
Vino Blanco
Flaxbourne 14 Gls, 42 1/2 Litre 65 Bottle
Sauvignon Blanc
Marlborough
New Zealand
Vino Blanco
Mionetto 50
Prosecco
Sparkling
Dom Perignon 350
Sparkling
Louis Roederer, Cristal 450
Sparkling
Veuve Clicquot 375 mls 80
Sparkling
Veuve Clicquot 750 Mls 140
Sparkling